Pearson35 designed by Shaw
I
40.70
ISP
40.70
J
13.80
SPL
13.80
P
35.70
E
15.20
Py
0.00
Ey
0.00

Draft
3.75
C/B
7.50
Prop
Aprtr
Beam
10.0
Disp
13000
LWL
25.00
UP
S/D
16.0
DW
S/D
32.7
D/L
371
Year
1968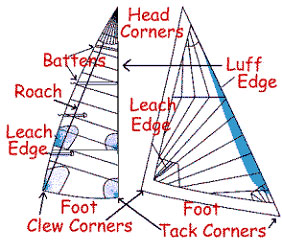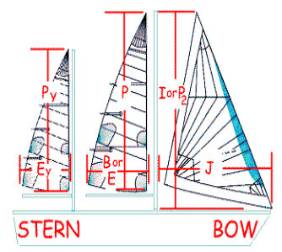 Thanks to Bacon Sails for the graphics and P35 Sail Table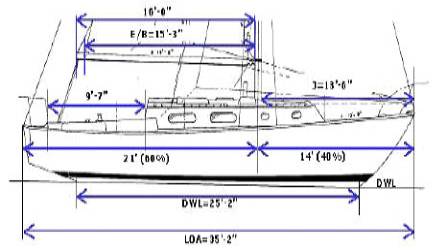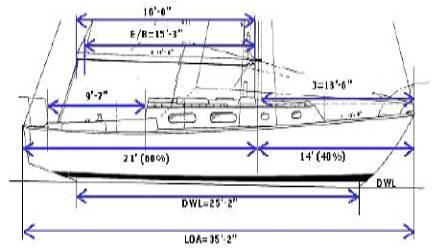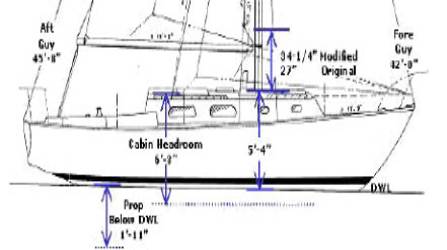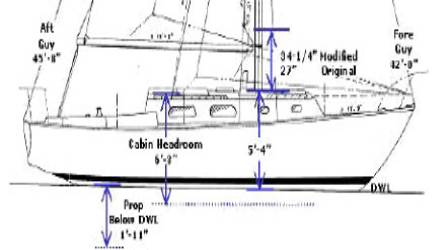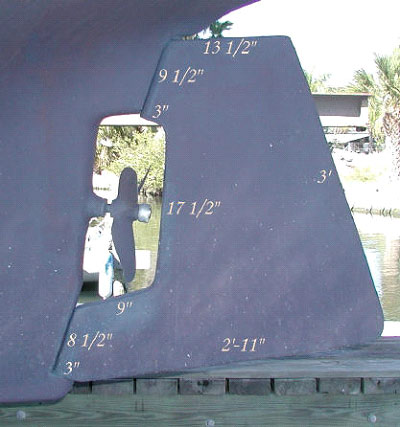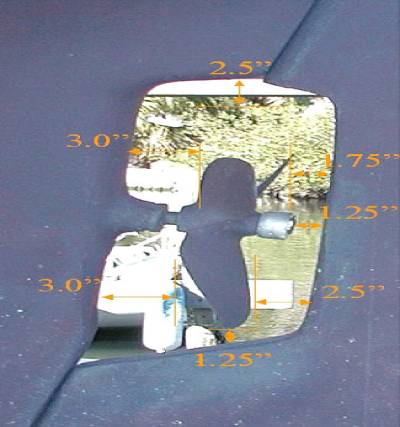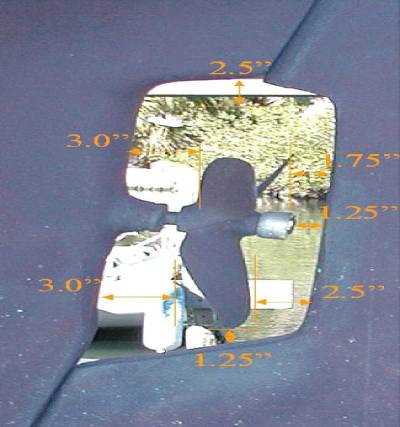 (As measured or calculated from Mikhaya, a 1979 model)
LOA or LOH Length Overall/Length of Hull

35'-2"

LWL Length at Waterline

25'-2"

DWL Design Waterline (designer estimate)

25'

Bmax Beam at it's maximum width

10'-0"

BWL
Approximate Water line Beam (Bmax x 0.9)

9'-0"

Draft (Center Board Up)

3'-9"

Draft (Center Board down)

7'-6"

Displacement (Pearson Published light ship weight)

13,000 lbs.

Dtotal
Displacement total includes payload

13,000 + 2000 = 15,000 lbs.

B
Ballast as built (Lead enchased in Fiberglass)

5,400 lbs.

SA
Sail area (as published)

550 sq/ft

SA
Sail area (calculated) Fore-triangle ([IxJ]/2) + Main ([PxE]/2) (Boom was raised 7¼", new main sail has extended leech.)

279.5' + 269' = 548.5 sq/ft

MH Mast Height Above LWL (DWL)

44'-6"

Headroom (Main Salon Area)

6'-3"

Cockpit Length

9'5"

Power

30h Diesel

Fuel

18 gal

Fresh Water Capacity (Bow-45, Starb-25, Port-25)

78 gal

J Dimension (ft)
(Measured from head stay sail shackle with a straight line to the mast clearing the deck)

13'-9"

E/B Dimension (ft)
(Measured from aft side of the mast to the end of the boom sail attachment)

15'-2"

I Dimension (ft)

40'-8"

P Dimension (ft)
(Measured from top of boom/mast junction to the mast head attachment for the mainsail)

35'-6"

HS
Hull Speed (1.34 x √LWL) (knots)

6.72 knots

HS
(measured) Know meter compared to GPS

7.2 knots

SA/D
Sail Area Displacement Ratio (SA/[Disp/64]0.667)

15.8

LBR
Length-Beam Ratio (LOH/Bmax)

3.52

BR
Ballast Ratio % (Ballast wt/displacement x 100)

42

DLR
Displacement-Length Ratio (Displacement/2240)/(0.01 x LWL)3

364

MCR
Motion Comfort Factor (Disp/0.65x(0.7 LWL +0.3 LOA)xBeam1.33

33.41

CSV
Capsize Screening Value = Bmax/(Displacement/64.2)0.334

1.69

Yacht Class for IMS

PSN35

PHRF (general)

174
Reference Nigel Calder's, Cruising Handbook, International Marine© 2001 and the excellent work done by Dan Pfeiffer.
In Memory of
William Harold Shaw
Member of Barrington Yacht Club
Hometown: Bristol, RI
Age:
Died: 20 August, 2006
Arrangements: Smith-Mason Funeral Home [Directions] Riverside, RI
William Harold Shaw, of Bristol, died Sunday, Aug. 20, 2006, at his home surrounded by his family, after a long, courageous battle with Alzheimer's disease. He leaves his beloved wife of 55 years, Elizabeth "Beth" Thomson Shaw.
This is a great historical write up of Pearson Yachts by Steve Mitchell.  Article originally ran in Good Old Boat Magazine. Article here was reposted from BoatUS.



Everett A. Pearson, Vice President Pearson Yachts Division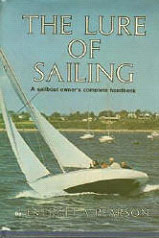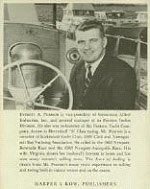 The Lure of Sailing©, by Everett Pearson can still be found in used book stores and on EBAY.
An article about Everett Pearson, a Brown University Alumnus, and others who first built fiberglass boats. "Everett Pearson '55 has been described as the Henry Ford of fiberglass boat building..."

The Thinking Behind a Modern Lobster Boat
Soundings ran an article wrote by Mark Pearson (son of Everett Pearson) now President of Pearson Yachts and general manager of TPI Composites-Marine Division

An Interview with Everett Pearson One of the Founding Fathers of Fiberglass Boats
by Vicky MacFeidh
Interview

In April 1998, Practical Sailor did a three-page review of the Pearson 35 Sailboat. The article is still for sale and can be obtained at the link above.

Cruising World Magazine ran an article by Jeremy McGeary titled, "The $25K-to-$50K Club," in August  of 2001.  The P35 made the line up.

Sail Magazine ran an article by Charles Mason on Commissioning 2001, "Updating a Classic." The P35 was the candidate. Talk about an upgrade!


Marine Surveyor Jack Hornor, takes a look at the P35. Article ran in SpinSheet Magazine.


The P35 is one of the twenty
Boating Magazine April 1968
The editor of Boating Magazine, Syd Rogers with Bill Shaw the designer of the P35, go sailing on one of the first P35's produced.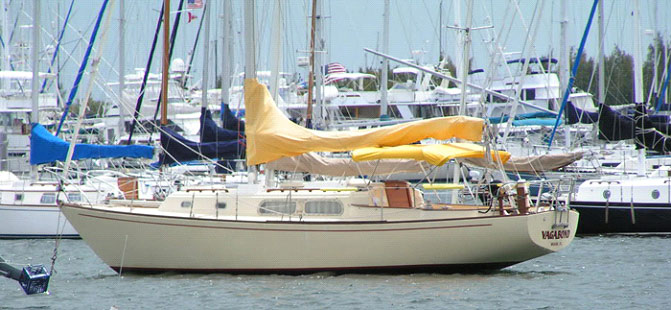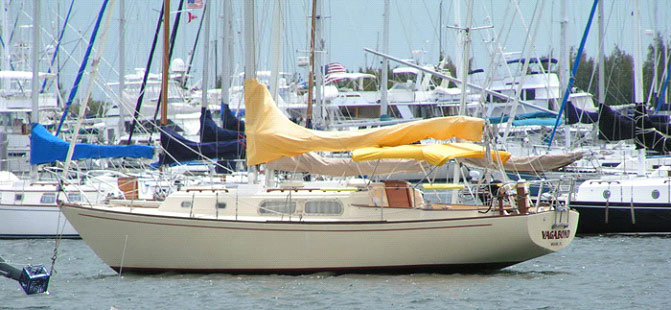 The Only Way to Sale a P35
Bob Nimmo, out of Washington NC has his 1979 "Christina," for Sale. (Jan 05, I captured the add to show just how good this type of boat shows)